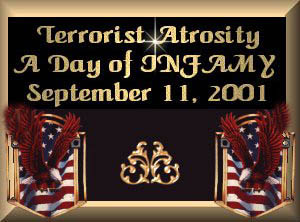 A Day of INFAMY...Page ~8~


At 8:45 a.m.
Sept. 11, 2001
A Terrorist Atrosity started
A Day of INFAMY
~~~
These following pictures were taken by my good friend Debbie's husband Fran
at Ground Zero in NYC on Friday, September 22, 2001.
~~~
Fran said the pictures don't even start to take in the enormity of it all
and how it can affect you emotionally as you view the devistation.
~~~
These pictures are copyrighted and the propery of Debbie and Fran,
and displayed on my sight with their expressed permission,
and please do not take or use without their or my written permission.